Yum yum yum yum. Looking at these pictures again makes me want to run back to the kitchen and make this soup all over again.
I know soup in summer sounds like madness but I swear it works here. Rich but not heavy, creamy but fiery, this is the perfect meal for when you're exhausted and craving super easy comfort food that doesn't require turning on the stove.

I adapted this recipe from I Breath I'm Hungry and put it on the meal plan while on a keto kick.  By the time I got around to making it I was back on Carb Fest so served it over a scoop of rice. It's naturally gluten-free and paleo but I promise it's satisfying and delicious no matter what your dietary persuasion.  This is probably heretical but I honestly think it wouldn't miss much if you left out the shrimp for the vegetarians. Or swap another fish or chicken for the picky-pants in your life.
Give soup a chance this summer and let me know what you think.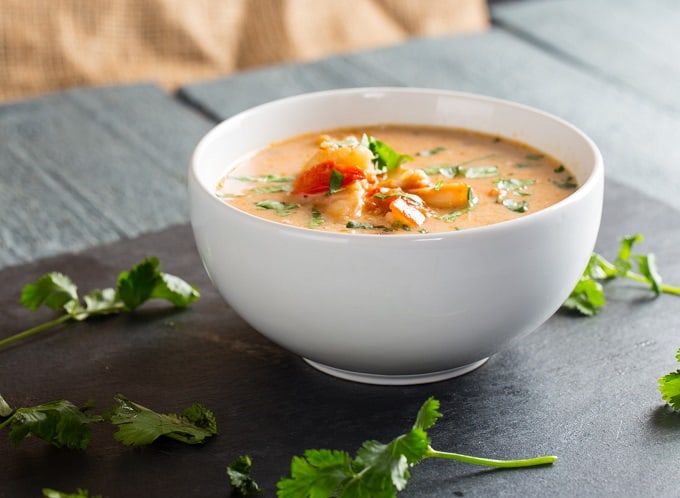 Ingredients
1½ lbs raw shrimp, peeled & deveined
1 tbs coconut oil
¼ c onion, diced
2 cloves garlic, minced
1 14-oz can diced tomatoes with green chili's
1 14-oz can coconut milk
1 cube vegetable bouillon
1 c water
¼ cup roasted red pepper, diced
2 tbs Sriracha hot sauce
2 tbs fresh lime juice
¼ c fresh cilantro, chopped
salt and pepper to taste
Instructions
Heat oil in a medium saucepan over medium heat. Add onions and saute until translucent, about 5 minutes. Add the garlic and saute another minute.
Add tomatoes, coconut milk, bouillon, water, roasted peppers, and sriracha. Bring to a gentle simmer and cook until shrimp are just opaque.
Stir in lime juice, cilantro, and season to taste..
Nutritional Information
Calories 305
Total Fat 11.0g
Saturated Fat 7.9g
Trans Fat 0.0g
Cholesterol 295mg
Sodium 861mg
Potassium 402mg
Total Carbohydrates 16.8g
Dietary Fiber 2.8g
Sugars 7.7g
Protein 33.4g
https://www.homesweetjones.com/2016/06/fast-easy-moqueca-de-camaroes-aka-brazilian-shrimp-stew/