These super-easy superfood cakes are loaded with zesty Southwest flavor. In fact, I have to confess that the salsa in the picture isn't the salsa from the recipe.  The salsa from the recipe was completely devoured by me before photo time so I had to make a last minute substitution.
Recipe pro tip: make extra salsa.
These fun little cakes are a great make ahead option for quick snacks or work lunches.  Packed with veggie-based protein they're deceptively filling.  Serve with a light salad and avocado slices for a complete meal.
If you're not already on the quinoa train you can read more here about the many health benefits.
Just trust me on the salsa and make a double batch.  Enjoy!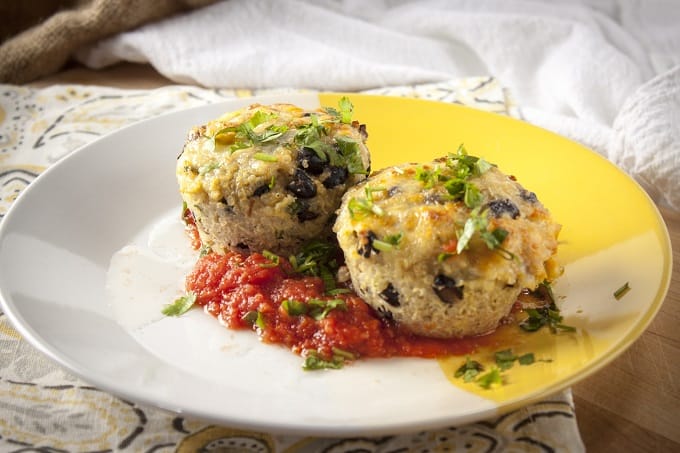 Ingredients
2 c water
1 c quinoa
1 c black beans, rinsed
3/4 c nonfat cottage cheese
1/4 c green onions, sliced
4 large eggs
2 tbs all-purpose flour
1 tsp baking powder
1/4 tsp salt
1 c shredded pepper Jack cheese

Salsa

1 14-ounce can fire-roasted diced tomatoes
1 clove garlic
1 small chipotle pepper in adobo sauce, more or less to taste
1/4 cup fresh cilantro
salt and freshly ground black pepper, to taste
Instructions
Preheat oven to 375°F.
Bring water to a boil in a medium saucepan and add quinoa. Reduce to a simmer, cover and cook until quinoa is tender, about 15 minutes. Transfer to a large bowl and let cool.
Add black beans, cottage cheese, and green onion and toss to combine. Gently whisk eggs, flour, baking powder and salt in a small bowl. Stir into quinoa mixture
Spray 12 muffin cups with non-stick spray and divide the quinoa mixture between them. Top each with 1 tbs cheese.
Bake until cakes are puffed and golden, about 20 minutes.
Meanwhile, combine salsa ingredients in a blender or food processor and puree until smooth.
Serve the cakes with salsa on the side.
Nutritional Information
Calories 157
Total Fat 5.7g
Saturated Fat 2.3g
Trans Fat 0.0g
Cholesterol 73mg
Sodium 282mg
Potassium 233mg
Total Carbohydrates 16.7
Dietary Fiber 3.1g
Sugars 1.7g
Protein 9.7g
https://www.homesweetjones.com/2016/06/southwest-quinoa-cakes/