Do you need to impress someone in your life? Do you need a way to show someone how much you appreciate them? Or do you just need to taste the richest, creamiest, most decadent cheesecake bar you've ever imagined? Then you've come to the right post. my friend.

We don't eat a lot of sweets at Chez Jones but this is one that we both find irresistible. So irresistible, in fact, that I only make them for the office so I don't have them tempting me at home. As rich as they are I could probably eat the whole tray. Instead, I cut them into little satisfying squares for the wonderful people I work with.
For all the fanciness, these are relatively simple to make and are absolutely best a day or two after cooking. Use dark chocolate for the topping to give them a sophisticated, faint bitterness that perfectly compliments the luxuriously creamy cheesecake.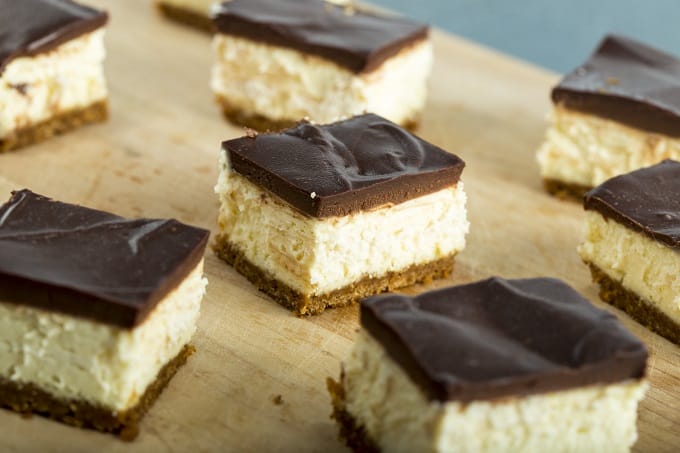 Ingredients
Crust

1 1/2 c crushed graham crackers (about 10 full sheets)
3 tbs packed brown sugar
6 tbs butter, softened

Cheesecake

3 8-oz packages cream cheese, softened
1 c sugar
2 tbs flour
3 eggs
1 c sour cream
1 tbs vanilla

Chocolate Ganache

8 oz semi-sweet chocolate
1 c heavy whipping cream
4 tbs butter
1/4 c confectioners' sugar
Instructions
Preheat oven to 325F
Prepare Crust
In a large bowl combine cookie crumbs and sugar. Add butter and mix until well-combined.
Press mixture into the bottom of a 13x9" baking dish.
Prepare Cheesecake
Using an electric mixer, mix the cream cheese, sugar, and flour until light and creamy.
Mix in the eggs one at a time.
Add sour cream and vanilla and mix until just combined.
Pour the batter into the prepared graham cracker crust and bake until just barely set, about 45 minutes.
Let cool.
Prepare Ganache
Meanwhile, place chocolate in a large bowl. Break into small pieces, if necessary.
Heat cream and butter in a medium pot over medium-low heat until just simmering and pour over chocolate.
Add confectioner sugar and whisk until smooth.
Pour the ganache over the cooled cheesecake. Cover with plastic wrap and refrigerate overnight before serving.
https://www.homesweetjones.com/2016/07/decadent-cheesecake-bars-chocolate-ganache-topping/
Huge thanks to bakerella for the inspiration behind these
impossibly tasty treats
.