Hearty potatoes and tender-crisp green beans in a fragrant, creamy Thai curry… this simple dish is so tasty you won't believe it takes less than half an hour from pantry to table – or that it's vegan and gluten free.

Tasty it is. Authentic it is not. I know that. Please don't yell at me in the comments. Even as Brad and I have enjoyed it throughout the summer and fall I've been nervous about posting it for fear of reprisal by Thai food purists. You know what? Food doesn't have to be traditional to be good. We're so lucky to live in a time and place where we have access to global cuisines, their techniques and ingredients – why not play around? If everything had to be made in the exact same way our ancestors made it we wouldn't have achieved some of our century's great culinary accomplishments: nachos, Caesar salad, Rainbow rolls, crab Rangoon, burritos, cronuts…

So, if you're looking to mix up your usual weeknight Thai curry with inexpensive, easy-to-find local ingredients then this is the recipe for you. I use the adorable Teeny Tiny potatoes from Trader Joe's but fingerlings would be a perfect substitute and really, any potato would work.

Most often I dig up a bottle of Thai Kitchen green curry paste from the pantry and use the entire 4 ounces but we've also made this with my new favorite brand of curry paste from MyThaiCurry.com where just an ounce adds plenty of flavor. Taste your paste before adding it and adjust for your palate.
Serve over rice, shirataki noodles, or on it's own – the potatoes do such a great job of holding the sauce that you really don't need anything else.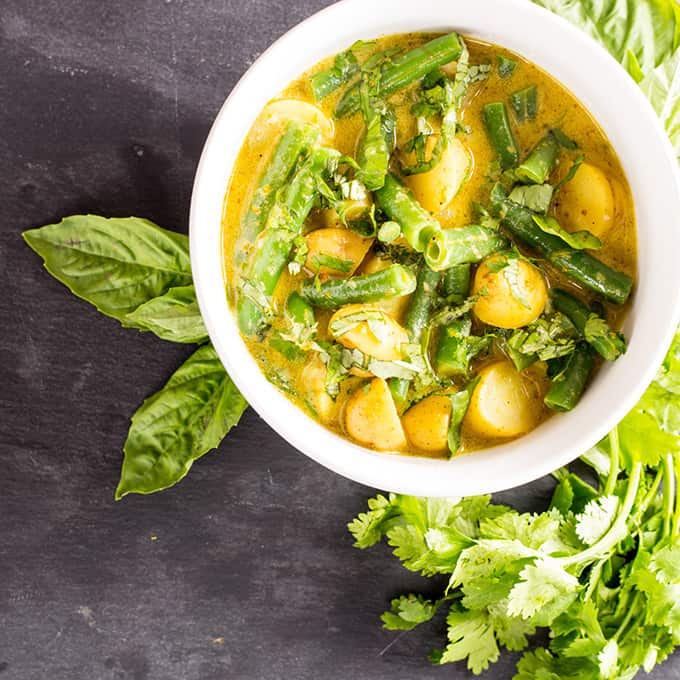 Ingredients
1 lb teeny tiny potatoes, sliced into 1/2" rounds (can substitute fingerling or cubed new potatoes)
l lb green beans, trimmed and sliced into 2" batons
1 tbsp oil
1 garlic clove, minced
1/4-1/2 c Thai green curry paste, depending on the brand, more or less to taste
1 14-oz can coconut milk
2 fresh kaffir lime leaves or 3 wide strips lime zest, thinly sliced
1/4 c basil leaves, chopped
1/4 c cilantro, optional
Instructions
Bring a large pot of water to a boil. Add potatoes and cook until just tender, about 5-8 minutes. Using a slotted spoon, transfer to a large bowl and set aside. Return water to a boil and add green beans. Cook until crisp-tender, about 3-5 minutes. Drain and add green beans to bowl with potatoes.
Add the oil to the pot and heat over medium-high. Add the garlic and saute, stirring, about 20 seconds, until golden and fragrant but not yet brown.
Add the curry paste and cook, stirring, for an additional minute.
Add the coconut milk, stir to combine. Add cooked potatoes and green beans to the pot, bring to a simmer and cook 5 minutes.
Stir in the lime and basil leaves. Garnish with cilantro, if desired, and serve.
Nutritional Information
Calories 336
Total Fat 19.2g
Saturated Fat 15.6g
Trans Fat 0.2g
Cholesterol 0mg
Sodium 702mg
Potassium 717mg
Total Carbohydrates 36.3g
Dietary Fiber 8.6g
Sugars 8.4g
Protein 5.9g
https://www.homesweetjones.com/2016/10/thai-green-curry-potatoes-green-beans/
Thanks to
BBC Good Food
for the fusion inspiration.