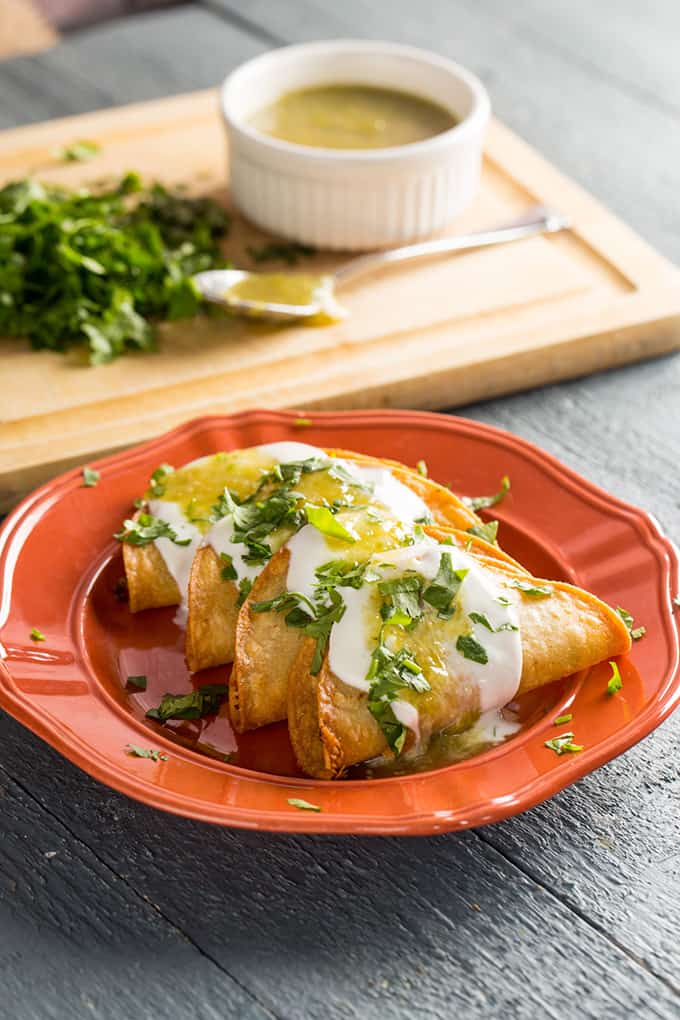 Crunchy tacos are stuffed with creamy, cumin-scented potatoes and fiery hint of roasted poblanos in this addictively delicious dish. Traditionally vegetarian and gluten-free, these hearty tacos are built to please everyone.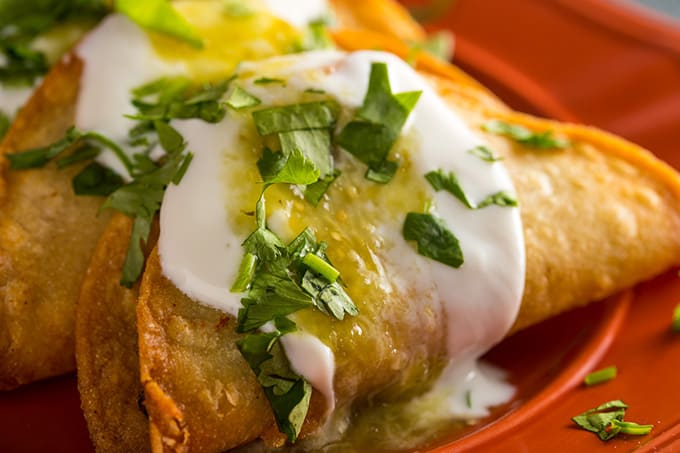 This is a price performer that is an excellent choice when you're cooking for a crowd. The recipe below easily makes 40-50 tacos depending on how much of the filling you eat while you're cooking (no judgement!) and can be partially or entirely prepared in advance.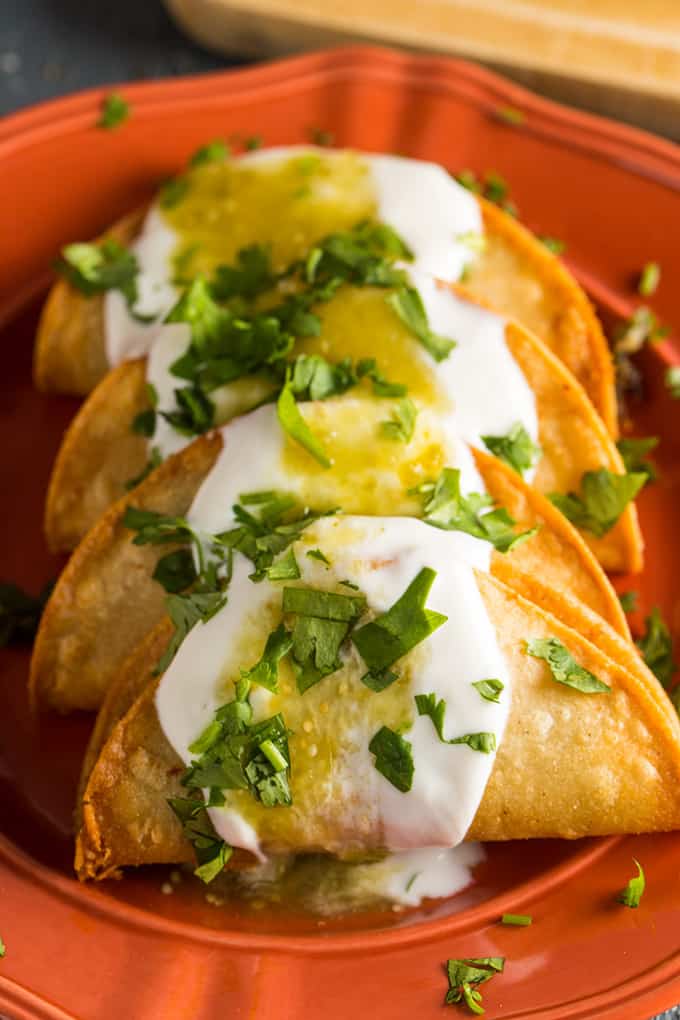 You can also scale it down for family dinners but honestly, even when it's just Brad and me, I fry the whole batch and reheat for lunches later in the week. About 5 minutes in the toaster oven at 350F returns them to their original crispy golden deliciousness.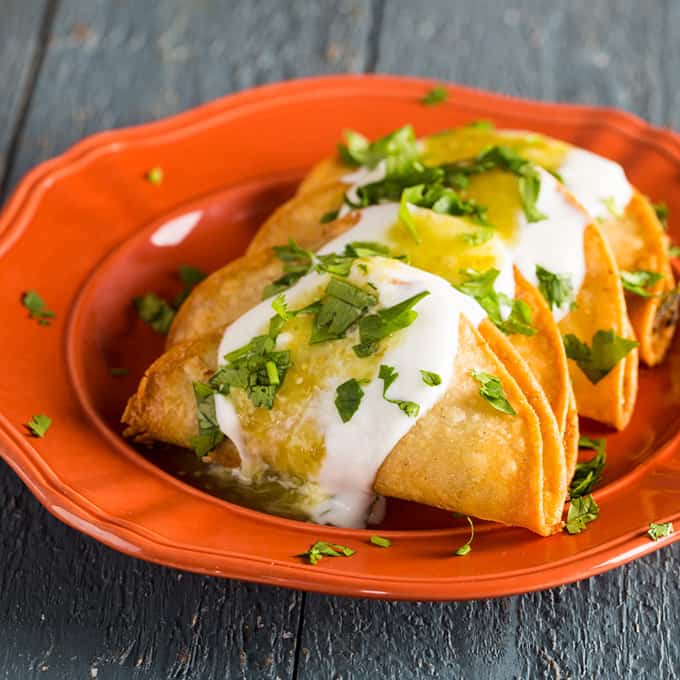 Serve slathered in sour cream and salsa verde and be prepared to serve seconds and even thirds.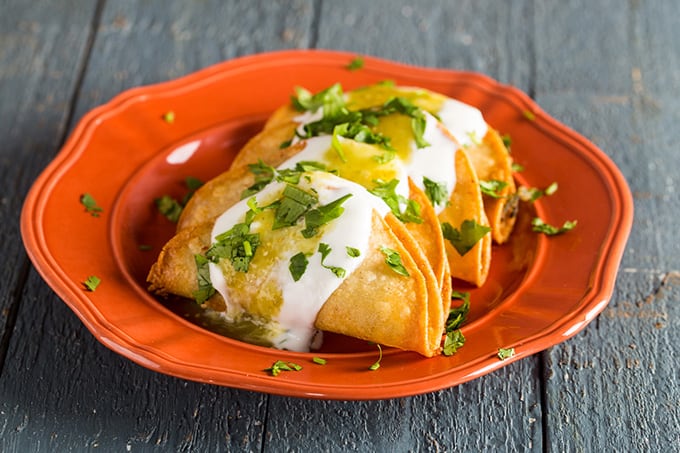 Ingredients
5 lb russet potatoes, peeled and cut into 2" cubes
3 poblano peppers
1 stick butter
1/2 c milk
1-1/2 c sour cream, plus more for serving
2 c shredded cheddar cheese
1 tsp salt
1 tsp ground cumin
1 tsp freshly ground pepper
48 corn tortillas
oil for frying
salsa verde, for serving
cilantro, optional
Instructions
Prepare the Filling
Place poblano peppers on the top rack of the oven and broil on high, turning periodically, until skin is charred, about 10 minutes per side. Transfer to a bowl and cover with plastic wrap to steam. When cool enough to handle, remove seeds and peels. Chop coarsely and set aside.
Meanwhile, bring a large pot of salted water to a boil and add potatoes. Return to a simmer and cook until tender, about 15-20 minutes.
Drain cooked potatoes and return them to the pot over low heat. Add butter and milk. Using a potato masher or wooden spoon, mash until fairly smooth. Stir in chopped roasted poblano, sour cream, shredded cheese, salt, cumin, and pepper.
Filling can be made up to two days in advance.
Assemble and Fry
Heat 2-3 inches of oil over medium high heat in a dutch oven or other heavy-bottomed pot.
Spread 3-4 tbs of potato filling into the center of each tortilla and fold in half. Fry in small batches, turning once, until each taco is golden, about 2-3 minutes per side. Transfer to a paper-towel lined plate.
Serve tacos with sour cream and salsa verde. Garnish with cilantro, if desired.
https://www.homesweetjones.com/2016/12/crispy-tacos-de-papa-roasted-poblanos/