I've been holding out on you.
This salad's been in our regular rotation for almost a year and I've been keeping it all to myself. No longer.  Break out that wild rice that's been sitting in your pantry and make this hearty, zesty salad tonight.  I suspect it will be the first of many times you make it.
This really is a year round salad. Wild rice, dried cherries, and bitter greens make it a good fit for winter but the zesty, crisp flavors made it the MVP of our summer picnics.
The origins of this dish belie it's awesomeness.  I was looking to develop a gout-friendly meal for a friend: something that incorporated sour cherries and whole grains.  At the same time, I was harboring a secret agenda of using the wild rice that had been sitting in the pantry so long that Brad was threatening to throw it away.  Cookie+Kate come to my rescue with this salad.
We started eating it for it's gout-fighting and pantry-clearing benefits but kept making it because it's so darn tasty and easy to make.  As an added bonus, it's a great make-ahead meal that tastes just as good – if not better – the second day.
Vegetarian and gluten-free, leave out the feta to make this salad vegan. I use honey-roasted almond slices from Trader Joe's for a sweet twist but make your own adjustments to make this dish entirely yours.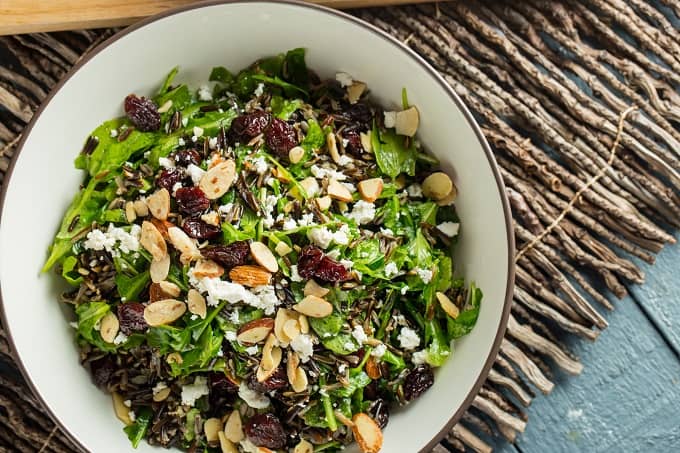 Ingredients
1 c wild rice, rinsed
4 c arugula
½ c sliced toasted almonds
½ c fresh basil, coarsely chopped
½ c dried sour cherries or cranberries, chopped
¼ c feta, chopped (I use Trader Joe's light feta)

Dressing

¼ c olive oil
2 tbs lemon juice (about 1 medium lemon, juiced)
1 tsp Dijon mustard
1 tsp honey or maple syrup
1 medium clove garlic, minced
¼ tsp salt
freshly ground black pepper, to taste
Instructions
Cook the rice according too the package instructions and set aside to cool. This can be done in advance.
Meanwhile, combine the dressing ingredients in a small bowl and whisk to emulsify.
In a large bowl, add cooked rice, arugula, almonds, basil, cherries, and feta. Toss with the dressing and let sit at least 5 minutes before serving.
Nutritional Information
calories 381
Total Fat 18g
Saturated Fat 2g
Monounsaturated Fat 12g
Polyunsaturated Fat 2g
Trans Fat 0g
Cholesterol 1mg
Sodium 283mg
Potassium 268mg
Total Carbohydrate 52g
Dietary Fiber 4g
Sugars 20g
Protein 9g

https://www.homesweetjones.com/2017/02/wild-rice-cherry-arugula-salad/