Brad's second most frequently requested dish is roasted broccoli. (Jones Home trivia: his most requested is tacos.)  This recipe takes that often unappreciated side dish and makes it the star of the show. Tossing the broccoli with orzo and zesty lemon juice makes it into a light, summary meal or hearty side.

Our love affair with roasted broccoli started January 2008 after we started using a technique published in Cook's Illustrated.  Tossing the broccoli with a small amount of sugar and pre-heating the baking sheet ensure beautifully even browning.

Slice the crowns into wedges with flat sides to get maximum contact with the pan.  I also peel the stems and and slice them into 1/2-thick planks to avoid waste.
Skip the Parmesan to keep this vegan but don't skimp on the lemon – it really ties the flavors together.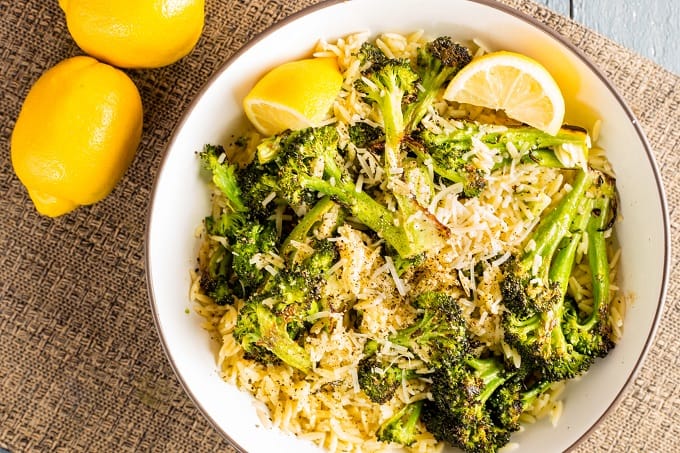 Ingredients
2 lbs broccoli florets, sliced into 4-8 wedges, depending on size
4 tbs olive oil, divided
1 tbs minced garlic
1/2 tsp salt
1 tsp sugar
freshly ground black pepper
1 c orzo
2 tbs freshly squeezed lemon juice
Lemon wedges, for serving
Freshly grated Parmesan, optional
Instructions
Move the oven rack to the lowest position and place a large baking sheets in the oven during pre-heating.
Preheat oven to 500F.
In a large bowl, toss broccoli wedges with 3 tbs olive oil and 1 tbs minced garlic.
Sprinkle with salt, sugar and black pepper. Toss to combine.
Working quickly. remove the hot baking sheet from the oven and distribute broccoli wedges in a single layer. Return to oven and cook until brown, about 9-10 minutes. Using tongs, turn once and cook another 1-2 minutes until fully brown and beginning to char.
Meanwhile, cook orzo according to package instructions and drain.
Combine cooked orzo with roasted broccoli in a large bowl. Toss with lemon juice, 1 tbs olive oil, and Parmesan, if using. Serve with additional lemon wedges.
https://www.homesweetjones.com/2017/06/lemony-orzo-roasted-broccoli/