Creamy buratta and a fragrant basil vinaigrette melted into a fresh zucchini and lentil salad is the perfect dish to transition into fall.
I first came across this dish in the kitchen of a friend. Brad and I had dropped by to spend a few hours with them over a bottle of wine. She started cooking dinner before we left and I couldn't stop staring at the beautiful, fragrant meal she made look so effortless.
I shouldn't have been surprised that the recipe came from Smitten Kitchen. When I finally had a chance to make it the following week it was just as flavorful, fresh, and complex and the rest of Deb's recipes. This is in our regular rotation and I can't wait to make it again.
Vegetarian and naturally gluten-free, this dish is a delicious and hearty way to take advantage of the bounty of zucchini this time of year. Serve with a light salad and some crusty bread for a hearty, entertainment-worthy meal that's easy enough to assemble on a weeknight with friends and little ones underfoot.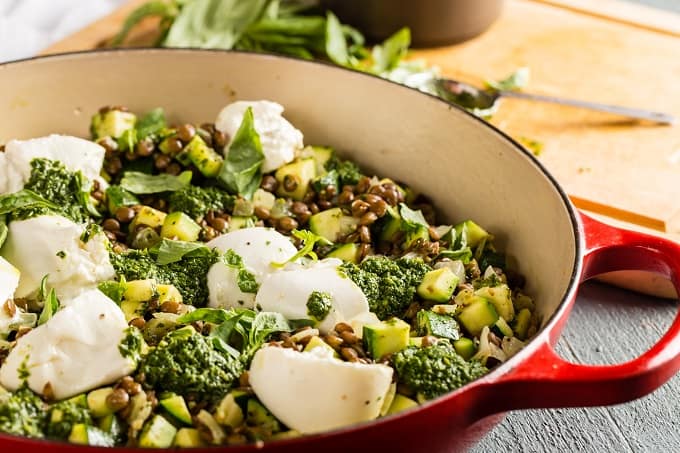 Ingredients
Lentils

1 1/2 c lentils de puy or other small green lentils
1 tbs olive oil
2 medium zucchinis, diced
1 small onion, diced
1 tsp fresh thyme
2 cloves garlic, minced
Salt and freshly ground black pepper

Basil Vinaigrette

1 1/4 c fresh basil
1 tbs Dijon mustard
2 tbs red wine vinegar
6 tbs olive oil
Salt and freshly ground black pepper

Assembly

8 oz burrata cheese
1/4 c fresh basil, chopped
Instructions
Prepare the lentils
Sort the lentils and rinse them in a colander. Transfer to a medium saucepan and cover with 3 inches of water. Salt the water so that it's as salty as sea water. Simmer over medium heat until tender-firm, about 25-30 minutes. Drain the lentils and set aside.
Prepare the vinaigrette
Meanwhile, combine basil, mustard, vinegar and 2 tbs olive oil in the bowl of a small food processor and blend until almost smooth, scraping the sides of the bowl as needed. Stir in remaining 4 tbs olive oil and season with salt and pepper.
Prepare the salad
Heat 1 tbs olive oil in a large skillet or braiser over medium heat. When oil is shimmering, add diced zucchini, onion and thyme. Season with salt and pepper and cook, stirring frequently, until zucchini is just tender, about 8-10 minutes. Add cooked lentils and continue cooking 1-2 minutes until warm.
Remove from heat and stir in 2/3 of the vinaigrette. Place the burrata on top of the lentils and cut it into bite-size dollops. Drizzle with the remaining vinaigrette and garnish with fresh basil.
Nutritional Information
Calories 442
Total Fat 38g
Saturated Fat 11g
Monounsaturated Fat 17g
Polyunsaturated Fat 2g
Trans Fat 0g
Cholesterol 40mg
Sodium 835mg
Potassium 207mg
Total Carbohydrate 8g
Dietary Fiber 2g
Sugars 3g
https://www.homesweetjones.com/2017/09/warm-lentil-salad-burrata-basil-vinaigrette/