Salade Lyonnaise is a popular salad from the Lyon region of France traditionally made of frisée, lardons, toasted croutons, and a mustard vinaigrette made from the bacon drippings all topped with a poached egg. It's like breakfast salad.
Because bacon is such an integral ingredient, I've long struggled with a way to make this that was friendly for non-mammal eaters but still honored the traditionally rich flavor profile.
Rich, smokey, and faintly sweet, salmon candy turned out to be the perfect solution and can be found at any Whole Foods. It pairs so incredibly with the flavors of the salad, I no longer think of it as a substitute but an equally delicious (and sneakily healthy) variation  on a classic.
Kenji's method for foolproof poached eggs at Serious Eats ensures this elegant salad is unexpectedly easy to make. You can even poach the eggs a day in advance to make for easy assembly when entertaining.
Any meal, any course: this just might be your new favorite salad.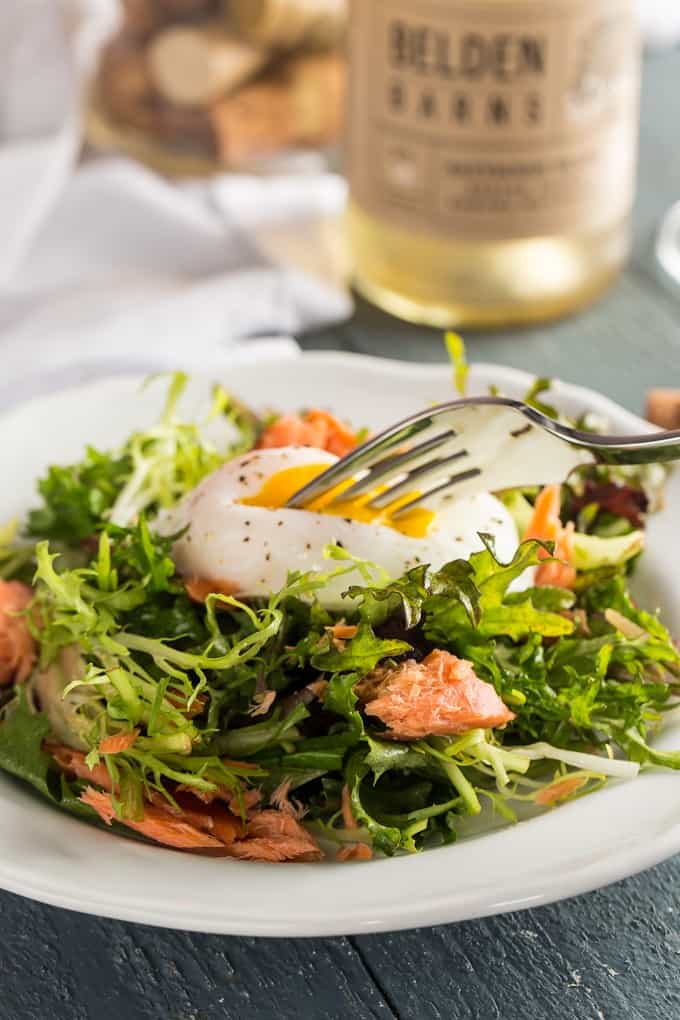 Ingredients
4 tablespoons extra virgin olive oil
2 tbs white wine vinegar
1 tbs Dijon mustard
1 tbs shallot, finely chopped
4 cups torn frisée or other strong-tasting greens, washed and dried
1/2 lb salmon candy
4 eggs
Salt and freshly ground black pepper
Instructions
In a small bowl, whisk together olive oil, vinegar, mustard, and shallot. Season with salt and black pepper.
Put frisée or other greens in large salad bowl and toss with 1/2 the vinaigrette. Crumble salmon candy into bowl and toss to distribute. Season to taste with salt and black pepper.
Meanwhile, bring a medium pot of salted water to a boil, then reduce heat until it is barely simmering. Break each egg into a small bowl then gently transfer to a fine mesh strainer. Swirl the egg in the strainer so that the loose whites are strained and only the egg remains. Carefully tip the egg into the simmering water and swirl gently with a wooden spoon until the whites are set and the yolk has filmed over, about 4 minutes.
Using a slotted spoon, transfer the eggs to a bowl of lukewarm water until all are cooked.
Divide the salad between 4 plates and top each with a poached egg. Serve with additional dressing on the side.
https://www.homesweetjones.com/2017/10/salmon-salade-lyonnaise/