Whipping up a batch of these glittering cranberries signals the beginning of the holiday season at Chez Jones. These sweet-tart candied berries are great for snacking, sharing, decorating the table, and – our favorite use – garnishing cocktails like our Holiday Mule or this holiday twist on a French 75.
They're such a surprisingly refreshing burst of sweet-sour and a great way to use all the fresh cranberries that are on sale this time of year.  I usually buy a few extra bags at the end of December to keep in the freezer for when cranberries are less easy to come by.
Given how simple and delicious this recipe is, you may end up doing the same. All you need in addition to fresh cranberries is water and sugar.  I use superfine sugar for a delicate dusting but you can use regular sugar, too. You might even prefer the clumpier frosted look.  Play around with whatever's on hand – I have a feeling these are going to go into regular rotation in your kitchen.
These will last about 2 days after preparing.  I often make a half batch when I only need a few for cocktails.  Of course, given that they're vegan, gluten-free and oh so simple to make, I just as frequently make a double batch for neighbors and office mates. Enjoy!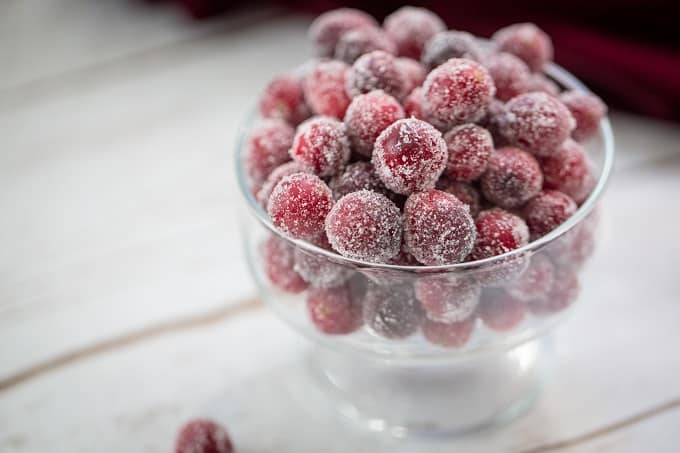 Ingredients
1/2 c sugar
1/2 c water
1 12-oz bag fresh cranberries
1 c superfine sugar (can substitute table sugar)
Instructions
Combine sugar and water in a small saucepan over medium heat. Simmer, stirring, until sugar is completely dissolved.
Remove from heat and add cranberries. Refrigerate overnight,
Using a slotted spoon, transfer cranberries to parchment paper. Reserve syrup for another use.
Let the cranberries dry for 20-30 minutes until just slightly tacky.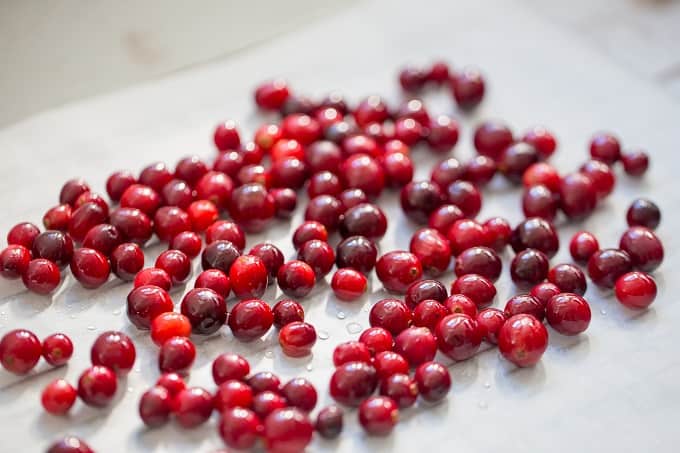 Place superfine sugar in a bowl and add cranberries. Toss to coat.
https://www.homesweetjones.com/2017/11/sparkling-sugared-frosted-cranberries/