I always feel a little guilty in January when the weather in LA is warm and sunny but the rest of the country is buried in snow and ice. I can't do anything about the weather but I can offer this recipe for a warming, comforting bowl of Thai-inspired, keto-friendly soup.
This is a great go-to for cold and flu season. It's fast and easy to make when you don't have energy for anything more complex. Nevertheless, the tangy, faintly-spicy, rich and creamy broth tastes complex and energizing.
You can easily swap the shrimp for diced chicken – just add the chicken when you add the mushrooms. If you don't have lemongrass handy, the stuff in the tube works just fine – or leave it out without too much harm done.
Fast, gluten-free, low carb and paleo, this is a recipe you'll want to keep handy for any time of year.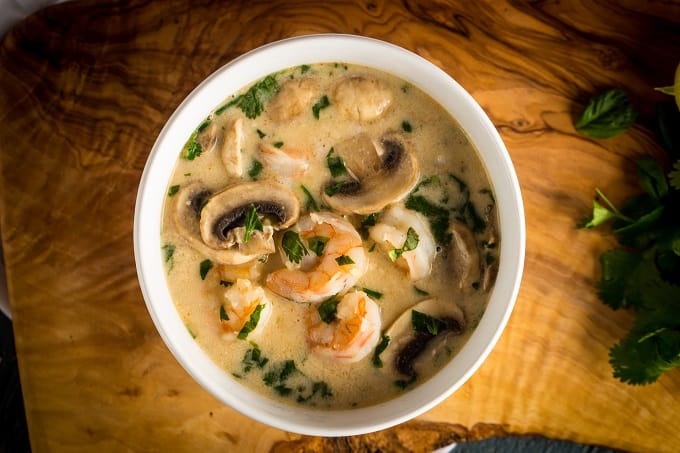 Ingredients
1 14-oz can coconut milk
2 c reduced-sodium chicken broth
1 tbs garlic, minced
1 stalk fresh lemongrass, cut in 1-in. pieces
1 c mushrooms, sliced
1 tbs fresh lime juice
1 tbs Thai fish sauce
1 tsp Thai chili paste or chilis
1 lb shrimp, peeled and deveined
1/4 c fresh basil leaves, finely chopped
1/4 c fresh cilantro, finely chopped
Instructions
Combine coconut milk, broth, ginger, and lemongrass in a medium pot over high heat and bring.
Add mushrooms, lime juice, fish sauce, and chili paste. Reduce heat and simmer until mushrooms are tender, about 5-7 minutes. Add shrimp and continue to simmer until cooked through, about 2-3 minutes.
Stir in basil and cilantro and serve.
Nutritional Information
Calories 240
Total Fat 15g
Saturated Fat 13g
Monounsaturated Fat 0g
Polyunsaturated Fat 0g
Trans Fat 0g
Cholesterol 173mg
Sodium 1106mg
Potassium 18mg
Total Carbohydrate 4g
Dietary Fiber 0g
Sugars 2g
Protein 32g
https://www.homesweetjones.com/2018/01/thai-coconut-shrimp-soup-keto/