According to the calendar, Summer is almost here.  According to the weather, it's already time to spend evenings on the patio with good friends, a cool rosé, and tasty little snacks like this homemade ricotta and summer squash crostini.
This is a great recipe for when the garden is overflowing with zucchini but the real star is the mega creamy ricotta that's a snap to whip up between summer activities. Huge thanks to Deb at Smitten Kitchen for her fool-proof recipe that has absolutely changed my life.  In addition to being a ricotta lover, I'm a terrible show-off, so I adore being able to impress guests by squeezing a lemon into a pot of warm milk and, "voila, cheese!"  Thanks to Deb, it's now more, "voila! best darn fresh cheese you've ever had in your life."  The two tricks are to use a bit of heavy cream and to minimize stirring.  If you over stir you'll end up with the grainy texture we all know from super market ricotta.  By barely swirling the lemon juice through the milk and cream, you end up with creamy, pillowy magic.
If you're avoiding carbs, this is also fantastic served as a salad.  Or embrace the carbs but serve the crostini on the side for the same amazing flavor profile with a more entree-type presentation.
Here's the obligatory acknowledgement that this isn't a true ricotta since "ricotta," by definition, means "twice cooked" and is made from the whey left over after making other cheese.  This ricotta isn't an afterthought – it's the main attraction.
This is best eaten immediately but can be prepared a day in advance and assembled when you're ready to eat.  Extra cheese will keep, covered, in the refrigerator for up to two days.  Also, if you end up with extra cheese I'm in awe of your will power.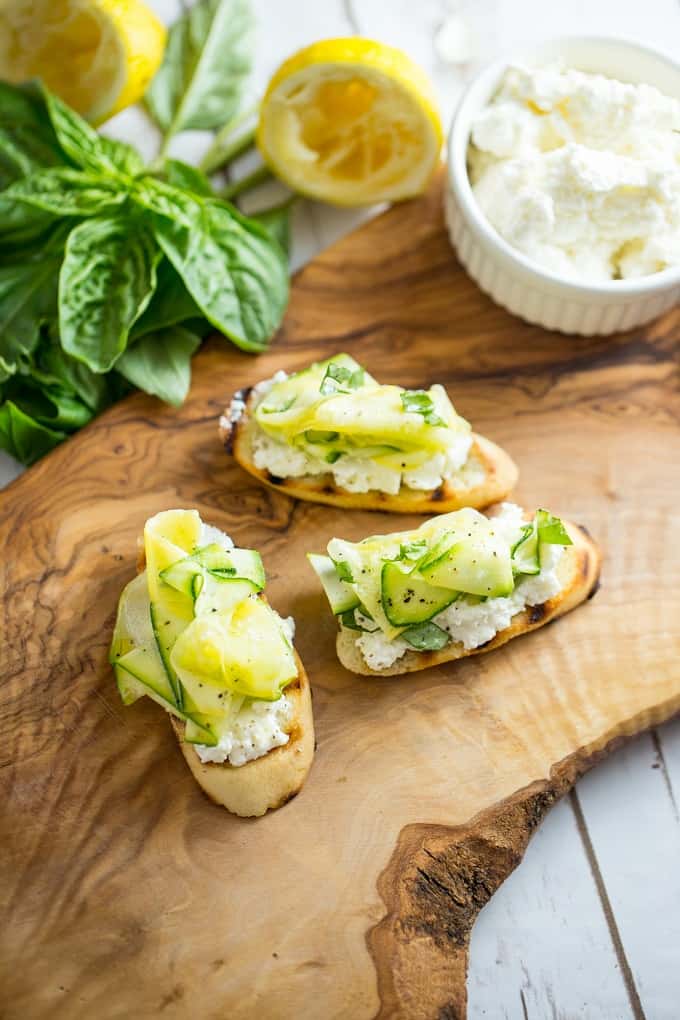 Ingredients
Ricotta

3 c whole milk
1 c heavy cream
1/2 tsp coarse sea salt
3 tbs lemon juice, freshly squeezed

Crostini

2 zucchini
1 yellow squash
1/4 c fresh basil, chiffonade
1 tbs minced garlic
1 tbs olive oil
1 tbs freshly squeezed lemon juice
1 baguette
olive oil
Additional coarse sea salt and freshly ground black pepper
1/4 c chopped walnuts, optional
Instructions
Prepare the Ricotta
Combine milk, cream and salt in a large saucepan over medium heat. Heat the milk until bubbles are just beginning to form on top. If you want to get it perfect, use a candy or deep-fry thermometer and heat to 190F.
Remove the pot from the heat and add lemon juice. Stir only once or twice very gently. It's important not to over stir. Let the mixture sit for 5 minutes.
Place a colander over a large pot or bowl and line with cheese cloth or paper towels. Pour the milk into the colander and leave it to strain for 2 hours.
The strained ricotta is best used immediately but can be stored for a day or two in the refrigerator. Reserve the whey for another use (I love it as a soup base); it will keep for a week in the fridge.
Prepare the Squash
Slice zucchini and squash into paper-thin ribbons using a mandolin, vegetable peeler, or very sharp knife. In a large bowl, toss squash ribbons with basil, garlic, olive oil, and lemon juice. Season with salt and pepper and set aside.
Toast the Crostini and Assemble
Slice baguette into quarter inch slices on the bias. Brush each side with olive oil (I use my misto and spray each side), season with salt and pepper.
Heat a grill-pan over medium-high heat and lay toasts in a single layer. Cook until golden brown and toasted, about 2-3 minutes per side. Alternatively, you can toast in the oven at 350F.
Spread each toast slice with a tablespoon of ricotta and top with squash mixture. Sprinkle with walnuts, if using, and serve.
https://www.homesweetjones.com/2018/05/homemade-ricotta-summer-squash-crostini/