Days are getting longer, weather is getting warmer, and I'm getting thirstier for a refreshing cocktail with a little sweetness and a little more bite.

We started making this Champagne Mule last summer for lazy weekend brunches on the patio. You guys know how much I love all kinds of mules – this bubbly version makes any day feel like a celebration.

I keep a jar of ginger simple syrup in the fridge at all times now. Brad and I like to keep things spicy so I let the ginger infuse the syrup as long as possible. If you prefer a little less bite, strain out the ginger after a week.

Vodka is the traditional booze of choice for mules as it was the basis for the original Moscow Mule, but I prefer gin for a little extra sharp flavor. Either works here.
A mule isn't the same without the frosty copper cup. These gorgeous copper champagne flutes were made for this drink – even though I originally bought them for a holiday spin on the French 75.

Sweet, spicy, fizzy and most of all refreshing. Whether you're enjoying an intimate afternoon in the sunshine with a close friend or blowing away your guests at a party, this is the cocktail of your summer.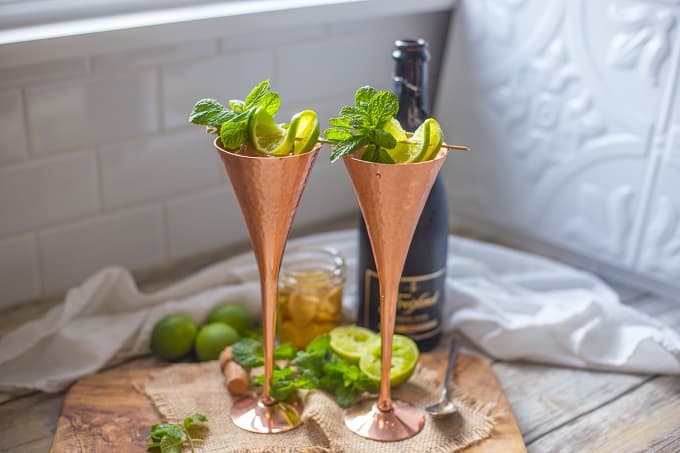 Ingredients
1 oz (2 tbs) vodka or gin
1/2 oz (1 tbs) ginger syrup (recipe below)
1/2 oz (1 tbs) freshly squeezed lime juice
dry sparkling white wine (Brut champagne, prosecco or cava)
fresh mint and lime wedge, for garnish

Ginger Syrup

1 c water
2 c sugar
2 large nubs ginger root, peeled and thinly sliced
Instructions
Ginger Syrup
Bring water to a boil in a small saucepan and add sugar. Reduce heat and stir until sugar is fully dissolved.
Remove from heat and pour syrup into an airtight container. Add ginger slices and store, sealed, in the refrigerator, for 1-2 weeks before using.
Champagne Mule
Combine vodka, ginger syrup, and lime juice in a shaker with ice. Shake and strain into a champagne flute. Top with sparkling wine and garnish with mint and lime.
https://www.homesweetjones.com/2018/06/champagne-mule-homemade-ginger-syrup/