This colorful stew is rich with Moroccan flavors.  The sweet apricot, creamy garbanzo and complex spices are all reminiscent of my favorite Moroccan chicken tagine but this vegan version is updated for a simplified, weekend-friendly preparation.
The spice mix is key. Ras el Hanout is a traditional Moroccan spice blend which loosely translates to "top of the shop" meaning the shopkeeper's best quality blend.  In my spice rack right now is the Zamouri brand that I buy on Amazon. Alternatively, if you have a well stocked spice rack you can make a simple substitute by combining the following:
Ras el Hanout
1 1/2 teaspoon coriander seeds
3/4 teaspoon cumin seeds
1/2 teaspoon crushed red pepper flakes
1 1/4 teaspoons ground cinnamon
1 teaspoon paprika
1/2 teaspoon ground cardamom
1/2 teaspoon ground ginger
1/2 teaspoon ground turmeric
Don't worry about having leftovers – this is a spice mix I cook with regularly.
Other Recipes using Ras el-Hanout
This thick stew is plenty hearty on its own for a vegan, gluten-free meal but is also delicious with a side of couscous, saffron rice, or pita.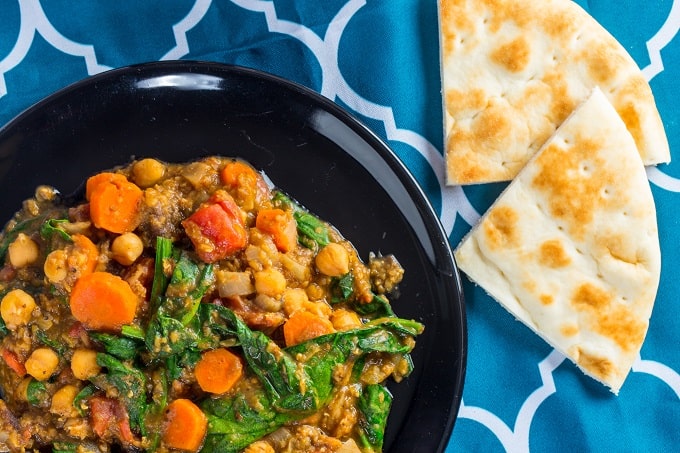 Ingredients
1 tbs olive oil
1 medium onion, diced
2 medium carrots, peeled and sliced
3/4 c red lentils, rinsed and picked over
2 c vegetable broth
1 pinch saffron threads
2 tbs Ras el-Hanout
1 can garbanzo beans, drained
1 can diced tomatoes
1 c dried apricots, halved
1 bunch spinach, stems removed
1/4 c cilantro, chopped
salt and freshly ground black pepper, to taste
Instructions
Heat oil in a large pot over medium heat. Add diced onion and carrots and saute until softened.
Add lentils, broth, saffron, Ras el-Hanout, garbanzo beans, tomatoes, and apricots. Don't salt at this time or it will affect the texture of the lentils. Reduce heat, cover the pan, and simmer until lentils are just beginning to break down, about 30 minutes.
Turn off the heat and stir in spinach and cilantro. Season with salt and freshly ground black pepper.
Nutritional Information
Calories 528
Total Fat 5g
Saturated Fat 1g
Monounsaturated Fat 3g
Polyunsaturated Fat 1g
Trans Fat 0g
Cholesterol 0mg
Sodium 1018mg
Potassium 2606mg
Total Carbohydrate 98g
Dietary Fiber 28g
Sugars 31g
Protein 26g
https://www.homesweetjones.com/2018/06/moroccan-lentil-chickpea-stew/