You really need to make this chicken. Probably tonight but, if you already have plans, later this week is okay, too.

I understand why you haven't made it yet – the pictures that accompanied the recipe when I originally posted it back in 2014 were pretty awful. Evidence is under the recipe below. Even these pictures don't do justice to the massive flavor that somehow fits into this super simple recipe. Still, I've pulled it up from the archives to update in the hopes I can convince you to give it a shot this Summer.

This intensely flavorful Spanish-style chicken with grapes, cilantro and white wine has been one of our go-to recipes for almost a decade now.
Brad discovered the recipe in Cooking Light magazine many years ago and I always look forward to making it when the weather starts warming up.  It's crazy simple but the combination of flavors make it seem like an exotic treat.  The complex sweetness, subtle spice and overall freshness of this dish are so refreshing.  Adjust the red pepper flakes too your preferred level of spiciness – we like a lot of heat.

I know the combo of grapes and chicken sounds weird but I promise it's a natural pairing found in some of my favorite chicken recipes. I can't believe it's not more common.
Other Chicken and Grape Recipes

We usually serve this over rice to soak up the delicious sauce – add a pinch of saffron to the rice cooking liquid for bonus flavor.  Or serve with a side of greens to keep things paleo-friendly.  And when the last bit of sauce has been mopped up, celebrate that there's only one pan to wash.
Oh! And the most important serving tip: a cool glass of white wine and good company.
Ingredients
2 8-oz skinless, boneless chicken breasts
salt and pepper, to taste
1 tablespoons olive oil, divided
1 cup white onion, vertically sliced
2 garlic cloves, minced
1/4 teaspoon crushed red pepper
1/2 teaspoon ground coriander
1/4 teaspoon ground cumin
3/4 cup dry white wine
1/3 cup unsweetened white grape juice
6 tablespoons finely chopped fresh cilantro, divided
1 1/2 cups seedless green grapes, halved
Instructions
Slice chicken breasts in half lengthwise and season with salt and pepper. Heat 1/2 tbs olive oil in a large skillet over medium high heat. Add the chicken and cook, turning once, until beginning to brown, about 5 minutes. Remove to a plate.
Add the remaining 1/2 tbs olive oil to the pan. Add the onions and saute until soft and translucent, about 5 minutes. Add the garlic, red pepper, coriander, and cumin. Cook another minute, until fragrant.
Add wine, grape juice, and 3 tbs chopped cilantro. Return the chicken to the pan and bring to a boil. Reduce heat to medium low and simmer, covered, until chicken is just cooked through, about 15 minutes.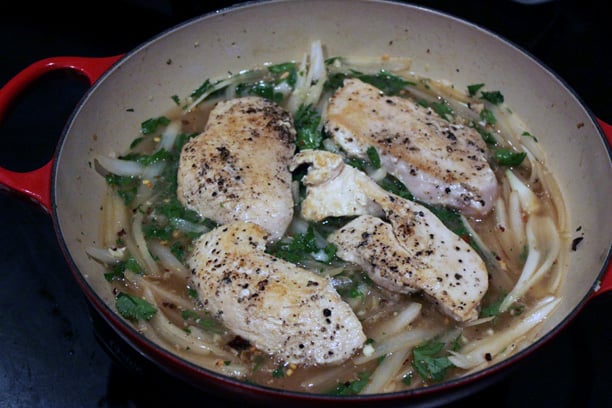 Remove lid and increase heat to medium-high. Add the grapes and cook until the sauce is reduced to about 1 cup, approximately 5 minutes. Serve chicken topped with the sauce and garnished with the remaining cilantro.
Nutritional Information
Calories 248
Total Fat 6.5g
Saturated Fat 0.5g
Cholesterol 73mg
Sodium 64mg
Potassium 590mg
Total Carbohydrates 13.7g
Dietary Fiber 1.0g
Sugars 10.4g
Protein 24.7g
Weight Watchers Points: 5
Points Plus: 5
https://www.homesweetjones.com/2018/06/spanish-grape-cilantro-chicken/
Below is the original picture from this post. Not as pretty but, since I know what it tastes like, it still makes my mouth water.