Colorful, peppery, and garlicky, this dish hits all the requirements for a Jones favorite.
This recipe is one of the first I posted when we started this blog but the pictures were awful so I'm pulling it up from the archive in the hopes I can convince you to make it.

This recipe is so easy and delicious that every time I make it, I wonder why we don't have it more often, like every other day. Usually it's because I don't want to haul out and clean my big honking mandolin to slice the vegetables but I've discovered that I can use a vegetable peeler to create perfect, delicate ribbons with less clean-up.

We love it with thyme but mix up the herbs to make it your own: parsley, chives, Italian seasoning, basil – whatever you have on hand.
Easily made vegan or paleo, this dish makes a great side for just about any meal.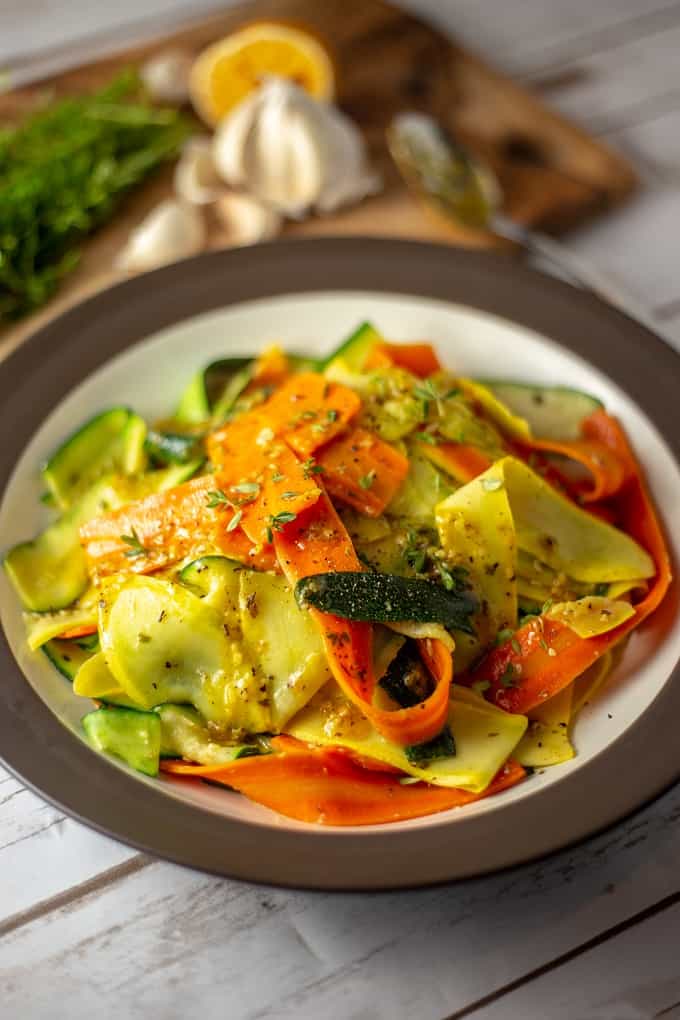 Ingredients
3 small zucchini
2 small yellow squash
3 medium carrots, peeled
1 tbs olive oil
1 tbs butter (optional, exclude for vegan/ paleo)
2 cloves garlic, minced
2 tbs fresh thyme, flat leaf parsley or other herb, minced
juice of 1/2 lemon
1/2 tsp freshly ground black pepper, more or less to taste
salt, to taste
Instructions
Using a mandolin or vegetable peeler, shave paper-thin slices of carrot, zucchini, and yellow squash.
Heat oil and butter (if using) in a large skillet over medium high heat. Add garlic and saute 30 seconds, until fragrant but not browned. Add carrots and saute another minute. Add zucchini and squash and saute, stirring frequently, until tender crisp, about 5 minutes. Remove from the heat and stir in herbs, lemon juice, black pepper and salt. Serve warm.
Nutritional Information
Saturated Fat: 0.6g Trans Fat: 0.0g Sodium: 88mg Total Carbohydrate: 10.3g Dietary Fiber: 3.1g Sugars: 4.9g Protein: 2.5g Points: 1 Points Plus: 2
https://www.homesweetjones.com/2018/09/carrot-zucchini-squash-ribbons-2/