Tangy, spicy shredded chicken served with fresh salsa loaded with all the flavors of the Caribbean.
This dish is adapted from Skinny Taste's Slow-Cooked Jerk Pork and modified for us non-mammal eaters. It's been a long time Jones family favorite and was one of the first recipes published on this blog. I've pulled it up from the archives to make a few improvements and update the photos to better do justice to the deliciousness of this simple dish.
This is one of Brad's favorite meals and, while I absolutely love it too, my favorite part is that I can prep it on Sunday, leave it in the fridge while the flavors meld into something magical, then pull it out Monday for a quick weeknight meal.
Speaking of magic, this dish can be made in a crockpot, instapot or on the stovetop. Its amazing versatility is only matched by its deliciousness.
Serve with a side of black beans, rice, or cucumber slices and I know this will be a new family favorite.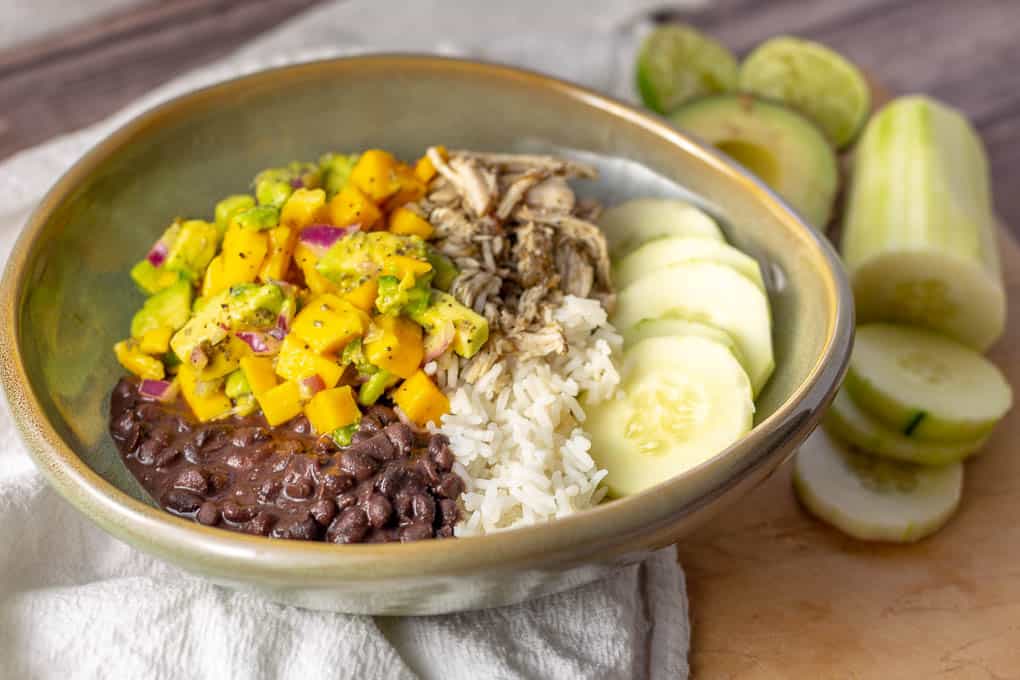 Ingredients
Jerk Chicken

1 lb boneless, skinless chicken breasts (about 2)
2 cloves garlic, crushed
1/4 cup of your favorite Jerk marinade
juice from one lime
2 tbs orange juice

Mango Avocado Salsa

2 avocados, peeled and diced (about 1-1/2 cups)
2 mangos, peeled and diced (about 3 cups)
1/4 cup red onion, finely diced
2 tbs fresh cilantro. chopped
juice from 1 lime
1/2 jalapeno, ribs and seeds removed, minced (optional, more or less to taste)
salt and freshly ground black pepper, to taste
Instructions
Pierce chicken breast with a fork combine in a bowl with garlic, marinade and lime juice. Marinate 1 hour to overnight.
Simmer chicken and marinade, covered, over low heat for about 1 hour until cooked through and chicken begins to easily shred.
Let cool and shred using two forks. Return to saucepan to reheat and add orange juice. Season to taste and serve immediately.
Meanwhile, prepare the salsa: combine all the ingredients in a bowl, season to taste with salt and pepper. Refrigerate 1 hour or up to 2 days.
Nutritional Information
Calories: 325 ; Fat: 14.0 g; Saturated Fat: 2.2 g; Trans Fat: 0.0 g; Cholesterol: 66 mg; Sodium: 285 mg; Total Carbohydrate: 21.7 g; Dietary Fiber: 6.7 g; Sugars: 17 g; Protein: 27.6 g; Points: 7 ; Points Plus: 8 ;
https://www.homesweetjones.com/2019/04/jerk-chicken-mango-avocado-salsa/