This elegant meal takes less than 30 minutes to put together and yet is impressive enough for entertaining. This is a great dinner for nights when you don't want to turn on the oven but still crave a home cooked meal.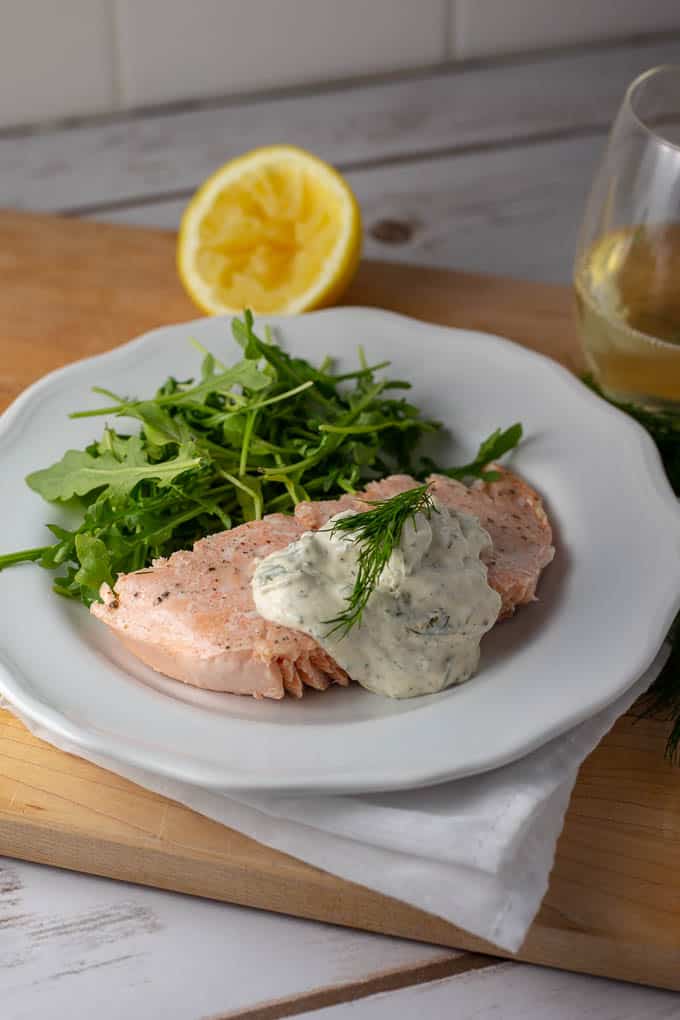 It's another Home Sweet Jones original from 2013 that I'm pulling out of the archives to update. It needs a better picture to entice you to make it. Because it is totally worth making.
Speaking of better pictures, though, I wish I'd done a better job slicing the salmon for these. You have my apologies, this fish deserves better than that raggedy edge.
If poaching seems like to much of a chore, feel free broil or pan fry the salmon for a possibly even easier dinner.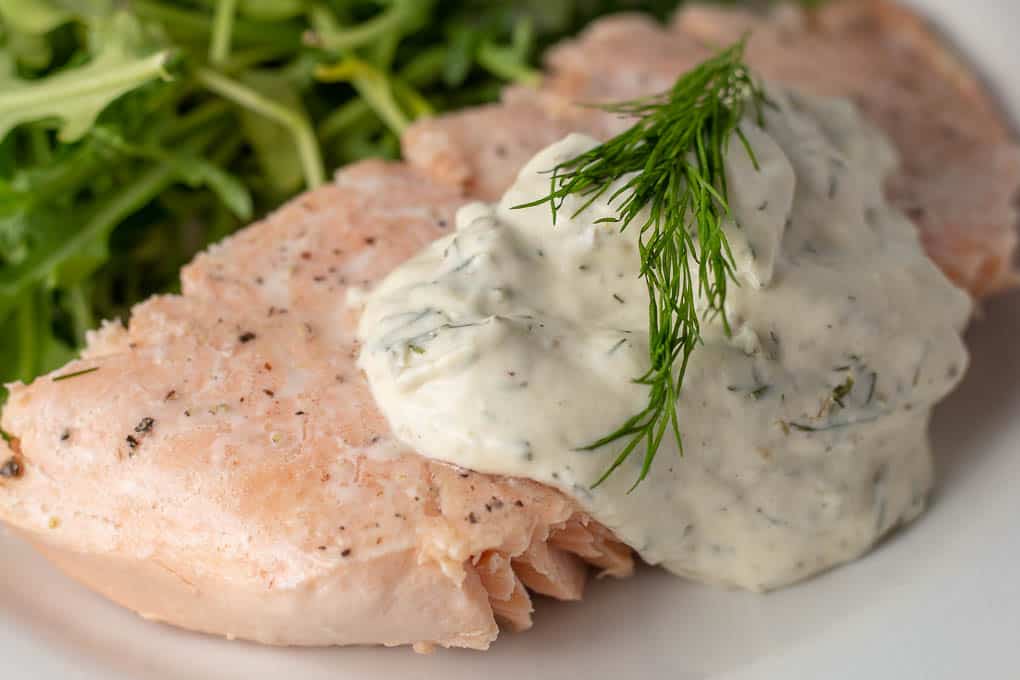 Serve with a side of vegetables or green salad for a healthy dinner under 500 calories.
Ingredients
Creamy Mustard Dill Sauce

1/2 cup fat free sour cream
2 tbs light mayonnaise
2 tbs fresh dill, chopped
1/2 tbs capers, finely chopped
1 tbs Dijon mustard
1 tsp lemon juice, more to taste
salt and freshly ground black pepper, to taste

Poached Salmon

1-1/2 lbs salmon fillet
1/2 cup white wine
1/2 cup water
several thin slices onion
several sprigs fresh dill
1 tsp whole peppercorns
several thin slices lemon
Instructions
In a small bowl, stir together sauce ingredients and refrigerate for at least 20 minutes.
Meanwhile, season salmon with salt and pepper. Combine water, wine, lemon, onion slices, fresh dill, and peppercorns in a large pan and bring to a boil over medium high heat.
Add salmon, return heat to a simmer, and reduce heat to low. Cover salmon and cook until just cooked through, about 10 minutes. Salmon should still be slightly undercooked inside as it will continue to cook once removed from the heat.
Discard the poaching water and serve salmon topped with sauce.
Nutritional Information
Calories: 430 ; Fat: 24.6 g; Saturated Fat: 4.7 g; Trans Fat: 0.0 g; Cholesterol: 112 mg; Sodium: 279 mg; Total Carbohydrate: 9.4 g; Dietary Fiber: 1.4 g; Protein: 41.6 g; Points: 10; Points Plus: 11;
https://www.homesweetjones.com/2019/04/poached-salmon-creamy-dill-mustard-sauce/