It's hard to believe that this giant bowl of creamy curry noodles clocks in at under 300 calories. The secret is shirataki noodles, noodles made from the konjac yam that are gluten-free, vegan, fat-free, and calorie-free. I get a shipment of Miracle Noodles delivered every month. The smell of the packing liquid when you first open a bag can be a little off-putting but a rinse and parboil will get rid of the odor. They absorb the flavor of whatever sauce they're served with and work beautifully with any Asian-influenced recipes.
Get 10% Off on All Miracle Noodle Products  Coupon Code: AFF10 

Here, the noodles are bulked up even more with fresh veggies and plump little shrimp swimming in a flavorful coconut curry.
Use whatever vegetables you have on hand: carrots, snap peas, eggplant or broccoli would all be great. If you don't like cilantro, you can swap out Thai basil.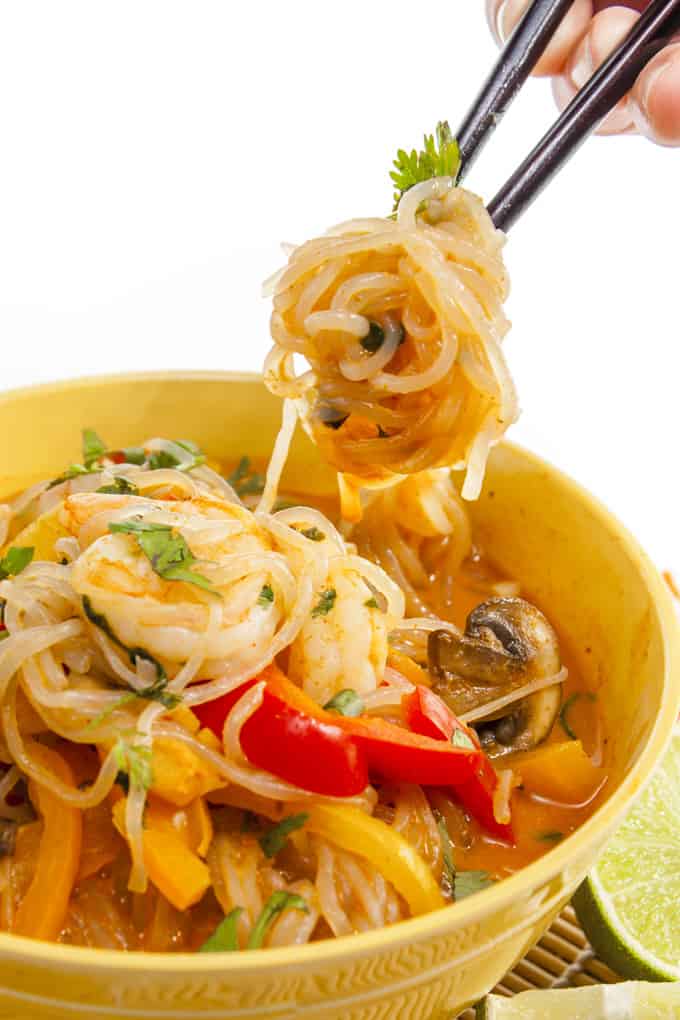 Ingredients
1/2 tbs oil
2 tbs fresh garlic, minced
2 tbs fresh ginger, minced
5 scallions, whites and greens separated and thinly sliced
2 tbs red curry paste, or more to taste
1/2 tbs curry powder
1 can light coconut milk
1 tbs fish sauce
2 bell peppers, assorted colors, cut into thin strips
6 oz mushrooms, thinly sliced
4 7-oz bags shirataki noodles (I use angel hair Miracle Noodles)
1 lb shrimp, peeled and deveined
sriracha, to taste
1/2 c cilantro, chopped
Instructions
Thoroughly rinse the shirataki noodles in hot water. Using kitchen shears, cut into shorter lengths.
Fill a large pot with water and bring to a boil. Add noodles and boil for 1 minute to remove odor from the packing liquid. Drain and set aside.
Heat oil in a large skillet, braiser or wok over medium-high heat. When shimmering, add garlic, ginger, scallion whites, curry paste and curry powder. Cook, stirring, until fragrant, 1-2 minutes.
Add peppers and mushrooms and saute for 5 minutes, stirring. Add coconut milk and fish sauce. Bring to a simmer. Reduce heat to medium and add noodles and shrimp. Simmer until vegetables are crisp-tender and shrimp are just cooked through, about 5 minutes. Add sriracha and adjust seasoning to taste. Stir in cilantro and serve.
Nutritional Information
Calories 269 / Total Fat 9.4g / Saturated Fat 5.7g / Trans Fat 0.0g / Cholesterol 239mg / Sodium 857mg / Potassium 593mg / Total Carbohydrates 17.5g / Dietary Fiber 2.9g / Sugars 4.5g / Protein 30.3g
Weight Watchers Points: 6 / PointsPlus: 7
https://www.homesweetjones.com/2014/06/shrimp-curry-shirataki-noodles/