Fall is just around the corner and even though its in the 90s here in LA, I'm already thinking about butternut squash, pumpkin, pears, and sweet potatoes.  This dish was inspired by our favorite go-to pasta in sage brown butter sauce.  In fact, all I did was swap sweet potato ribbons for the pasta but the result is completely original and a bit healthier.  The crispy, buttery fried sage and tender sweet potato compliment each other perfectly but, for all the complexity of flavor, this still takes just 4 ingredients and 20 minutes to prepare.  This would be a great candidate for a spiralizer, too.

I loved this as a vegetarian main course with a chunk of crusty bread but Brad preferred it as a side.  Either way, it's a great transition into Fall. This super simple dish is gluten-free, paleo, and just plain delicious.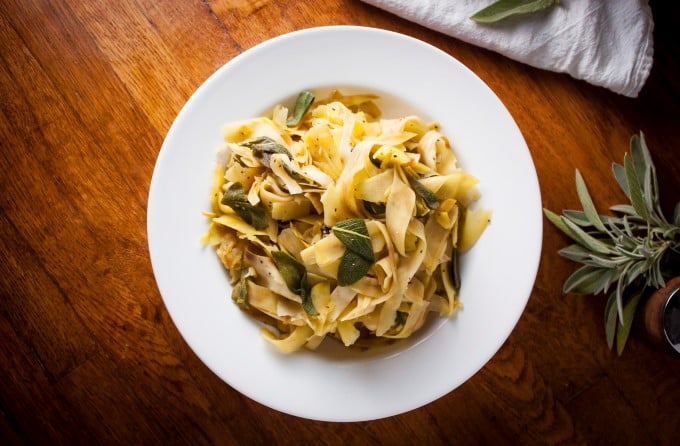 Ingredients
2 medium sweet potatoes
2 tbs unsalted butter
1/4 c packed fresh sage leaves, stems removed
1/4 c Parmesan Cheese, grated
salt and pepper, to taste
Instructions
Peel potatoes, slice into 1 inch slices and, using a vegetable peeler, shave ribbons from each slice. Set aside.
Melt butter in a large pan over medium heat. After foaming subsides, add sage leaves and cook until sage leaves are crispy and butter is beginning to brown, about 4-5 minutes. Watch closely to be sure butter doesn't burn.
Add sweet potato ribbons and cook, stirring, until potato is just beginning to become tender, about 5 minutes. Season with salt and pepper and sprinkle with Parmesan.
Nutritional Information
Calories 136 / Total Fat 7.5g / Saturated Fat 4.8g / Trans Fat 0.0g / Cholesterol 20mg / Sodium 143mg / Potassium 251mg / Total Carbohydrates 14.5g / Dietary Fiber 2.8g / Sugars 2.6g / Protein 3.8g
Weight Watchers Points: 3 / PointsPlus: 4
https://www.homesweetjones.com/2014/09/sweet-potato-ribbons-sage-brown-butter/