Make your holidays sparkle with this festive twist on a French 75.
A French 75 is the cocktail that combines all my favorite components: gin, lemon juice, and a touch of simple syrup topped off with sparkling wine and a twist. This incarnation gives it the holiday treatment by swapping tart cranberry juice and an fragrant twist of orange peel.  It will compliment any fall or winter meal from Thanksgiving to Christmas to New Years.
Make sure to use unsweetened cranberry juice.  If you absolutely can't find any, skip the simple syrup or it will be too sweet.  You can save any leftover juice by freezing it in ice cube trays and transferring to a freezer bag for cocktails or sauces throughout the year.
Let's talk about the elephant in the post, though: did you notice these copper champagne flutes?  Aren't they about the most beautiful cocktail glasses you've seen?  I've been chatting with the couple that make them for almost a year and was giddy when they finally became available for sale on Amazon.  Every time I pull them out I'm blown away by the weight and quality.  You're sure to see them featured in many more posts throughout the year.
In addition to the orange twist, I add a spear of sparkling candied cranberries for extra gorgeousness and flavor.
You can also prepare these in advance by combining 2 parts gin, 2 parts unsweetened cranberry juice, 1 part simple syrup and an orange slice in a pitcher.  Add frozen cranberries to keep it chilled. When you're ready to serve, just pour 2-3 ounces in a champagne flute and top with sparkling wine.
Here's to an extra merry holiday season!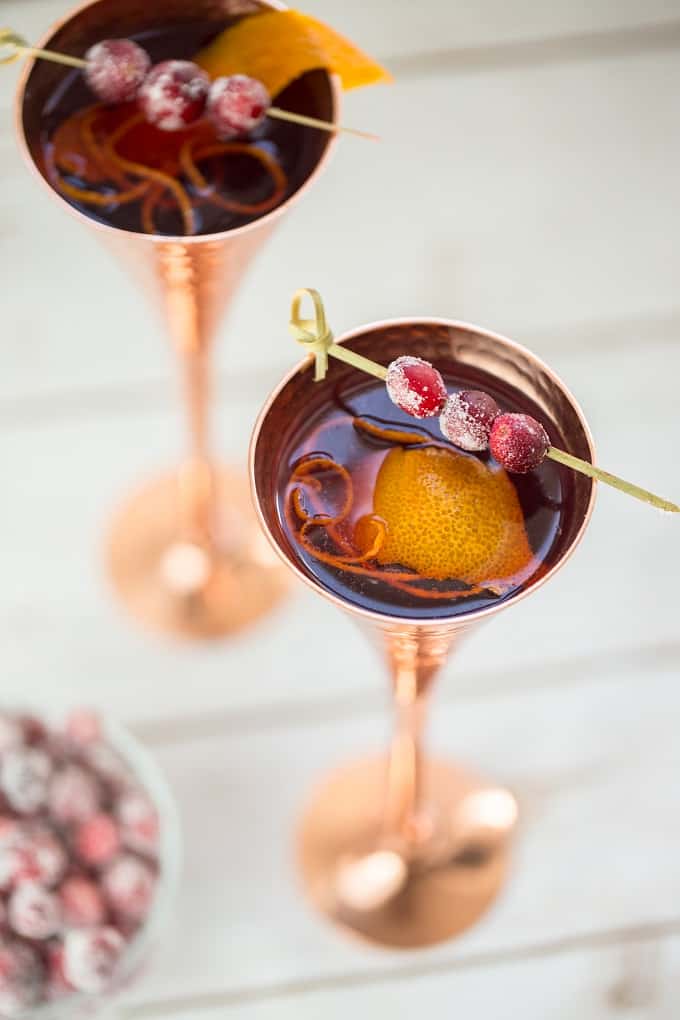 Ingredients
1 oz gin
1 oz unsweetened 100% cranberry juice
1/2 oz simple syrup
Champagne or sparkling wine
orange twist
Instructions
Shake gin, cranberry juice and simple syrup in a cocktail shaker filled with ice.
Strain into a chilled champagne flute. Top with champagne and garnish with an orange twist.
https://www.homesweetjones.com/2017/10/holiday-75-sparkling-champagne-cocktail/