So, those of you fortunate enough to have a Trader Joe's in the area have probably seen their "Curried White Chicken Deli Salad." Those of you who have tasted it know it's the greatest curried chicken salad in the history of our planet. Just the right amount of creamy, spicy, and sweet, a supposedly three-serving package usually disappears before the rest of the groceries go into the fridge.

Unfortunately, those supposedly three servings will cost you almost 1000 calories. Possibly worth it, yes, but pretty darn steep. And really, who considers 1/3 cup of ambrosia a serving, anyway?
This recipe captures all the best elements of that curry for a fraction of the calories. And for the record, that fraction is less than 1/3.

The most important thing here is a high quality curry powder. I started getting into non-Asian curry dishes when I discovered this absurdly heavenly curry powder at a fancy-schmancy spice store near our house. When I first became addicted it had one name I can't remember and went for $5 an ounce. Next time I came they had changed the name to "Oh la la French Masala Curry" and it was $6 an ounce. It's now called "Dragon Curry" and goes for $7 an ounce. Quick mental math says it will cost more than a car in not too long. I probably would have had to kick the habit but found the same brand online. No fancy names but it's only $6 a 2-oz bag here.
I have no relationship with Dragunara except for having spent a lot of money with them over the years. However, Dragunara, if you see this, let's start a relationship! Will work for free spices!
Anyway, point is that this is the best curry powder I've ever had. It needs to be ground in a spice grinder or mortal and pestle but, whatever, a spice grinder's like $10. You should have one. (That link actually is an affiliate link but it goes to the same spice grinder I have. In fact, I actually bought a second one after I burned out the motor on my first. We grind a lot of spice here at Chez Jones.)
Feels like I'm trying to get you to buy a lot of stuff today but just think of all the money you'll save making this salad at home instead of paying 3.99 for a little cup full.

So yes, get a good curry powder and the rest is easy. I used sliced almonds here while Trader Joe's uses cashews so feel free to swap.
Serve in sandwiches, atop a bed of greens, or licked off your fingers while standing in front of the sink.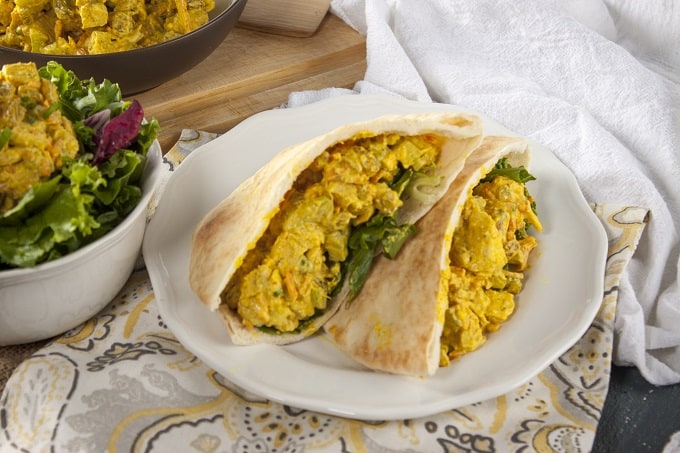 Ingredients
1/2 tbs honey
1 c nonfat Greek yogurt
2 tbs light mayonnaise
2 tbs good quality curry powder, more or less to taste (I'm nuts for Dragunara)
1 lb raw chicken breast, poached and cubed
1/2 c shredded carrots
1/2 c raisins
2 scallions, chopped, whites discarded
1 stalk celery, minced
1/4 c sliced almonds
salt and freshly ground black pepper, to taste (optional)
Instructions
Whisk together honey, yogurt, mayonnaise, and curry powder in a small bowl and set aside. Season to taste with salt and pepper.
Combine remaining ingredients in a large bowl and stir in desired amount of dressing.
Enjoy!
Nutritional Information
Calories 281
Total Fat 6.8g
Saturated Fat 0.6g
Trans Fat 0.0g
Cholesterol 68mg
Sodium 167mg
Potassium 352mg
Total Carbohydrates 23.4g
Dietary Fiber 2.9g
Sugars 15.5g
Protein 34.0g

https://www.homesweetjones.com/2016/01/curried-chicken-salad/